Featured Article
It has been two months since the end of the SAO disaster. Although the majority of the 6,147 surviving players have been logged out successfully, 300 of them, including Asuna, have yet to awaken for unknown reasons. Meanwhile, Kirito is trying to regain his life as Kazuto Kirigaya, which isn't easy since his sister has resumed her constant bullying of him. The only thing that keeps him going is his constant visits to Asuna in her hospital. But one day Asuna's father announces that he is going to marry her to an employee of his simply to avoid paying her medical bills, much to Kazuto's shock. However, things get interesting when Kazuto discovers that a figure that looks extremely like Asuna has been spotted in a new game called ALfheim Online. (
read more...
)
Featured Character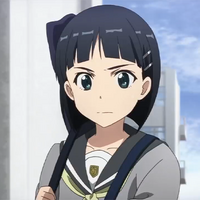 Suguha Kirigaya
(桐ヶ谷直葉,
Kirigaya Suguha
), also known as Leafa (リーファ,
Rīfa
), is the sister as well as bully of
Kazuto Kirigaya
. She is a very aggressively sporty and a very sarcastic person, possibly more than even Kazuto. She is depicted as outright cruel, possibly doesn't even realize it, as she views Kazuto as nothing more than a punching bag, and would often go on sarcastic remarks about his sex life, to the point of ridiculing him for having an "online wife" while downplaying it as him groping a comatose patient. She doesn't even show gratitude when Kazuto goes out of his way to lend her a juice while she was choking on a muffin, and immediately starts mocking him as soon as she catches her breath. (
read more...
)
Characters
Main Characters
Supporting Characters
Villains
NPCs
Side Characters